Sterling Silver 1.6mm Solid Twisted Rope Chain 18"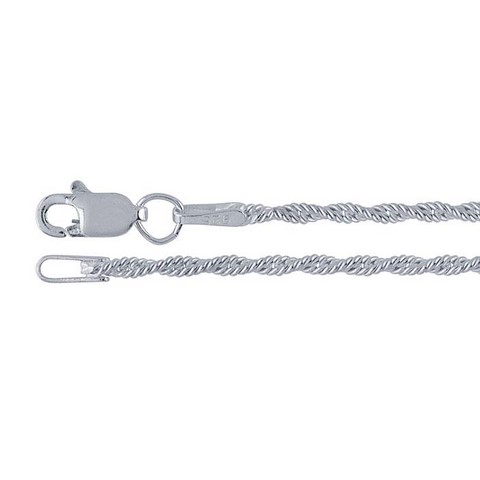 A georgious all around chain that is flexible and and perfect for men or women.
The links of this sterling silver solid rope chain are closely interlocked yet catch the light, giving it an dense, textured appearance. This chain makes a strong foundation piece for pendants and drops of any design style.
Rope chain features twisted links that are each connected to two other links in a continunous row. The twist causes the chain to create a spiraled effect similar to the woven fibers of a rope.
Specifications:
Metal type : Sterling silver
Karat/purity : 925
Width : 1.6mm
Overall length/dimensions : 20"
Clasp type : Lobster
Material : Metal
Style : Rope
Metal color : White
Fabrication method : Soldered links
Country of origin : United States
Please Note: • IMPORTANT: Sterling silver is an alloy containing metals that react with chemicals found in air and produce tarnish; high moisture levels, exposure to sunlight and contaminants such as salt water increase this reaction. Take steps to protect your sterling chains by keeping them in airtight packages, use tarnish-resistant products (such as tarnish tabs or strips) that absorb harmful chemicals, and store sterling findings in a cool, dry place. Most tarnish is easily removed by polishing with a mild abrasive or soaking in an anti-tarnish