Custom St. Damien Necklace with Kukui Cross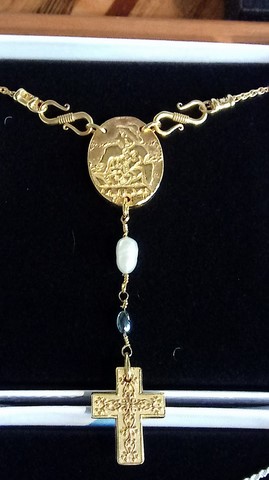 We love designing newe pieces for our Dietrich Varez Jewelry Collection, and here is one of the newest ones just finished for the Saint Damien Conference in Honolulu.

We included our oval St. Damien Pendant, depicting him at his cannonization, along with a beuatiful Kukui Blossom Cross, a white Freshwater Pearl, and a black Hematite bead. The necklace features two S-Clasps and instead of closing it in the back it just opens right in the front by undoing one of the s-clasps. This makes it very easy to wear, and it is a stunning design.

The necklace shown to the left is featured in 24K Gold over Fine Jewelers Bronze, but is also avaialble in 925 Sterling Silver and 24K Gold Vermeil. Like a different bead or gemstone? No problem. We will be happy to make a custom necklace for just you. EMAIL US to let us know what you want, and we will be happy to price it out for you.


Handmade in our rainforest studio in Volcano, right next to Hawaii Volcanoes National Park, no two pendants are exactly alike. Sculpted by hand, the textured design on the back of each pendant is unique to each piece.
** For this item the Chain is included


NO CREDIT CARD NECESSARY TO PLACE ORDER. We personally review and confirm every order and will send you a digital online invoice for payment. We pride ourselves on the personal contact with our customers, and will be happy to answer any questions or accomodate custom requests whenever possible. As a small art studio located in the rainforest of Hawaii we do appreciate your busines with supports the Creative Arts.
FREE SHIPPING TODAY FREE GIFT BOX
Cross Pendant Details
Our jewlery is made right here in Volcano, one at a time, and custom requests are always welcome.
Sizes:
(small)
(medium)
(large)
Handmade
Availabe in
24K Gold over Fine Jeweler's Bronze
925 Sterling Silver
24K Vermeil ( 24K Gold over 925 Sterling Silver )
Unique hand-applied design on back. No two pendants are alike