Handmade Kukui Blossom Cross Pendant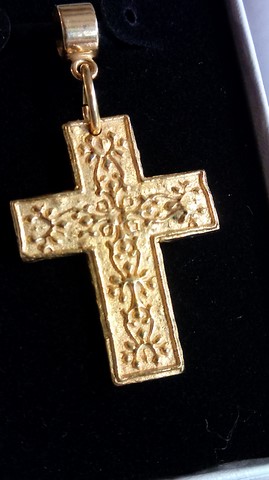 This is a beautiful handmade & charming Hawaiian Cross inspired by a traditional Hawaiian Kukui Blossom quilt pattern design.
Kukui is the State Tree of Hawaii and the Kukui Blossom is the flower of Molokai, the home of Saint Damien and St Marianne.
The Kukui represent "Light" and "Truth" in Hawaii, hence a perfect fit for this cross, which can be worn alone, or to accompany any St. Damien or St. Marianne Jewelry Pieces.
The cross comes in 4 different sizes. The smallest one can be worn as a necklace itself ( as shown ), or it can be added to a custom rosary, it could even be a charm on a bracelet, or take "two" of them, and you have a set of earrings. ( see the Earring listing on our website ).

The Kukui Cross is available in 24K Gold gilded over Fine Jeweler's Bronze, 925 Sterling Silver, and 24K Gold Vermeil.
The pendant is handmade in our rainforest studio in Volcano, right next to Hawaii Volcanoes National Park, and no two pendants are exactly alike. Sculpted by hand, the textured design on the back of each pendant is unique to each piece.
NO CREDIT CARD NECESSARY TO PLACE ORDER. We personally review every order and will send you a digital online invoice via our merchant provider for payment once your order is confirmed and the shipping cost and timing meets with your approval. We generally confirm your order the same day it is placed.
FREE SHIPPING TODAY FREE GIFT BOX
Kukui Cross Pendant Details
Our jewlery is made right here in Volcano, one at a time, and custom requests are always welcome.
Sizes:
SMALL: 21mm x 16mm - 24K over Bronze $59.99/ 925 Sterling Silver $ $84.99 / 24K Vermeil $114.99
MEDIUM: 33mm x 24mm - 24K over Bronze $79.99 / 925 Sterling Silver $109.99 / 24K Vermeil $ 144.99
LARGE: 42mm x 30mm - 24K over Bronze $99.99 / 925 Sterling or Vermeil - Please CALL
Handmade in our Studio on Volcano, Hawaii
Availabe in
24K Gold over Fine Jeweler's Bronze
925 Sterling Silver
24K Vermeil ( 24K Gold over 925 Sterling Silver )
Unique hand-applied design on back. No two pendants are alike
Custom Designs with Gemstones or Pearls quoted upon request.