Handmade Saint Marianne Pendant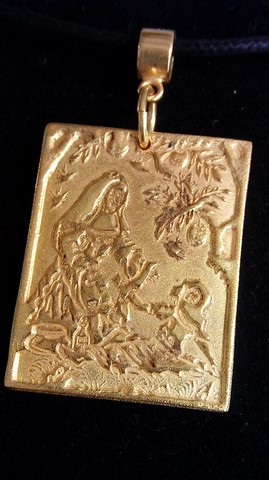 This is an absolute incredible pendant with so much detail. This very special pendant inspired by the artwork of one of Hawaii's most know block print artists "Dietrich Varez" is a beautiful keepsake. The pendant is available in 24K Gold over Fine Jeweler's Bronze, 925 Sterling Silver, and 24K Gold Vermeil.
The size is 34mm x 25mm
The pendant is handmade in our rainforest studio in Volcano, right next to Hawaii Volcanoes National Park, and no two pendants are exactly alike. Sculpted by hand, the textured design on the back of each pendant is unique to each piece.

Chains sold separately.

NO CREDIT CARD NECESSARY TO PLACE ORDER. For security we personally review every order and then will send you a digital online invoice via our merchant provider for payment once your order is confirmed and the shipping cost and timing meets with your approval. We generally confirm your order the same day it is placed.
FREE SHIPPING TODAY FREE GIFT BOX
Saint Marianne Pendant Details
Our jewlery is made right here in Volcano, one at a time, and custom requests are always welcome.
Size: 34mm tall, 25mm wide
Handmade Saint Marianne Rectangular Pendant.
Availabe in
24K Gold over Fine Jeweler's Bronze
925 Sterling Silver
24K Vermeil ( 24K Gold over 925 Sterling Silver )
Unique hand-applied design on back. No two pendants are alike
Other Natural stones or Pearl designs available upon request.