"Saint Damien" Amulet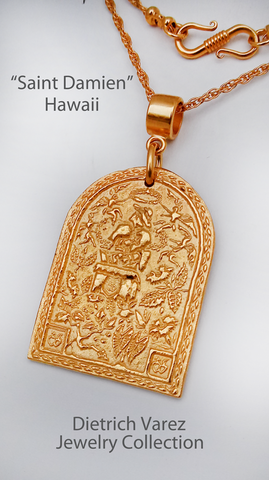 A georgous HAND-CRAFTED Saint Damien Amulet. It is amazing how much detail we were able to incorporate in this miniature version of Dietrich Varez's original block print artwork.
The image celebrates the cannonization of Father Damien. A truly magical and inspirational piece of wearable art.
Chains sold separately.




NO CREDIT CARD NECESSARY TO PLACE ORDER. We personally review and confirm every order and will send you a digital online invoice for payment. We pride ourselves on the personal contact with our customers, and will be happy to answer any questions or accomodate custom requests whenever possible. As a small art studio located in the rainforest of Hawaii we do appreciate your busines with supports the Creative Arts.

Saint Damien Pendant Detail: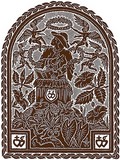 This pendant was inspired by one of the original block prints from one of Hawaii's most known Artists "Dietrich Varez", and depicts Saint Damien being cannonized. A very special piece of wearable Art.
Each Pendant is made one-at-a-time and hand-sculpted,. Bronze is a very hard material that is also ard to work and naturally has an ancient type of appearance to the finish and alive with textures within. Bronze is fired at extreme high temperature and the process takes several hours. We then finish each piece by hand and give great attention to all the fine details to bring out the beauty of each individual piece.
Each pendant also has a uniquely textured design on the back that is also applied by hand, so no two pendants are exactly alike. Your Saint Damien pendant is a true one of a kind, and along with being just a beautiful and spiritual piece Handmade with Aloha" in Hawaii, it will also bring some of that special Hawaii Aloha into your life.
Pure 24K Gold over solid Fine Jewelers Bronze

Each pendant is unique and one of a kind. No two are alike.

Hand-crafted in Volcano, Hawaii and made to last.

Also available in Natural Bronze, 24K gold over solid Copper, Natural Copper, 925 Sterling Silver, Vermeil, and 14K or 18K solid Gold ( custom order ). Please contact us to inquire.

Size: mm W x mm H