Saint Damien Pendant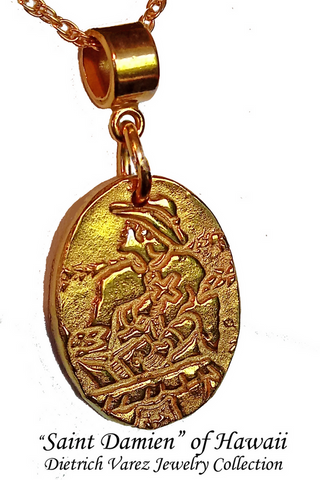 A georgous Saint Damien Pendant, HAND-CRAFTED in Hawaii and beautiful to wear.

Available in 925 Sterling Silver or 24K Gold Vermeil.
TODAY's SPECIAL: - FREE SHIPPING
Our Saint Damien Jewelry is an artistic colaboration with Dietrich Varez, one of the most beloved artists in Hawaii. Dietrich worked with a Honolulu Nun and the Catholic Church to create several block prints depicting Saint Damien and Saint Marianne. Our Jewelry designs are based on these signature brown and white block prints that can today be found on the walls of many Catholic Church Offices throughout the islands.
Each pendant is handmade one at a time in our Studio in Volcano, on the Big Island of Hawaii. There are no two exactly alike. This is a wonderful piece of Hawaii Made Wearable Art and a representation of your faith, that we hope will bring you a lifetime of enjoyment.
Chains sold separately.
Saint Damien Pendant Detail:
Handmade in Volcano, Hawaii

Available in 925 Sterling Silver or 24K Gold Vermeil ( Pure 24K Gold over Sterling Silver ).

Each pendant is unique and one of a kind. No two are exactly alike.

Size: mm W x mm H

Custom requests welcome