Saint Damien Pendant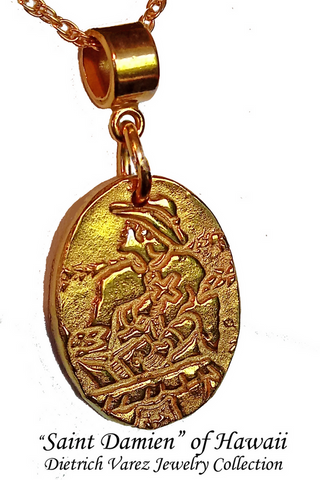 A georgous HAND-CRAFTED in Hawaii Saint Damien Pendant that is truly beautiful. .

Saint Damien is one of the only two Hawaii's Saints. Saint Damien is shown here with a cross and a bible in his hand.

Each pendant is made by hand and features a textured back, which is unique to each piece. There are no two exactly alike. Your pendant is a true one-of-a-kind and we hope it will bring you many years of enjoyment.

We feel blessed to be able to create this true treasures and hope you will love your pendant as much as we did creating it for you.
Chains sold separately.

NO CREDIT CARD NECESSARY TO PLACE ORDER. We personally review and confirm every order and will send you a digital online invoice for payment. We pride ourselves on the personal contact with our customers, and will be happy to answer any questions or accomodate custom requests whenever possible. As a small art studio located in the rainforest of Hawaii we do appreciate your busines with supports the Creative Arts.
TODAY's SPECIAL: FREE GIFT BOX - FREE SHIPPING
Saint Damien Pendant Detail:
This pendant was inspired by one of the original block prints from one of Hawaii's most known Artists "Dietrich Varez", and depicts Saint Damien during his Coronation. A very special piece of wearable Art.
Great attention was given to all details to create a beautiful pendant based on the original block prints. Each Pendant is made one-at-a-time, hand-sculpted, and a lot of the detail work is done with magnifying glasses to ensure all the details in the finished piece will be just right.

Bronze is a very hard material that is harder to work with than some other metals, so there is a lot of labor involved to create each pendant. We love the look and feel of Bronze. It has an "ancient coin" appearance to the finish as it is alive with textures within.
Each Bronze pendant is fired at extreme high temperature and the process takes several hours. We then finish each piece by hand and give great attention to all the fine details to bring out the beauty of each individual piece.
Each pendant also has a uniquely textured design on the back that is also applied by hand, so no two pendants are exactly alike. Your Saint Damien pendant is a true one of a kind, and along with being a beautiful and spiritual piece, by being handmade "with Aloha" in Hawaii, we hope it will also bring some of our special Aloha into your life.
As with any fine artwork, the value of the piece is in the labor invested to create it.. Just like a painting is more valueable than the canvas and the paint itself. It takes several hours to create one piece of jewelry and we are proud of everything we create.
Pure 24K Gold over solid Fine Jewelers Bronze

Each pendant is unique and one of a kind. No two are exactly alike.

Hand-crafted in Volcano, Hawaii and made to last.

Lifetime Refinishing Service available*

Also available in Natural Bronze, 24K gold over solid Copper, Natural Copper, 925 Sterling Silver, Vermeil, and 14K or 18K solid Gold ( custom order ). Please contact us to inquire.

Size: mm W x mm H