"Saint Marianne" Medallion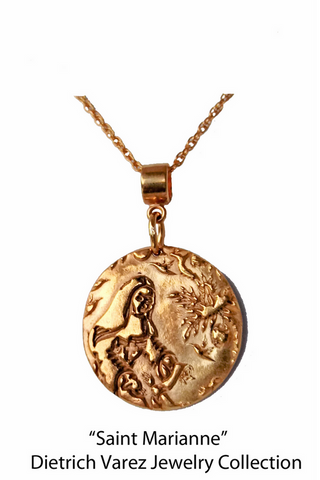 Marianne Cope OSF, also known as Saint Marianne of Molokaʻi, was a German-born American nun k
nown for her charitable works.
In 1883 she relocated with six other Sisters to Hawaiʻi to care for persons suffering from Hansen's Disease on the island of Molokaʻi and aid in developing the medical infrastructure in Hawaiʻi. Despite direct contact with the patients over many years, Cope did not contract the disease.
In 2005, Cope was beatified by Pope Benedict XVI. Cope was declared a saint by the same pope on October 21, 2012, and was the 11th person in the United States to be canonized by the Catholic Church.

When Mother Marianne Cope was canonized, Dietrich Varez worked with a Honolulu Nun and the Catholic Church to create a special print to honor her. This pendant was inspired by this print and celebrates Saint Marianne of Molokai.

The pendant is handmade in tarnish resistant 925 Sterling Silver , and is also available in 24K Gold Vermeil that is just stunning.
.
Chains sold separately.

Product Specs
Handmade in Volcano, Hawaii
Available in 925 Sterling Silver or 24K Gold Vermeil ( Pure 24K Gold over Sterling Silver ).
Each pendant is unique and one of a kind. No two are exactly alike.
Size: mm W x mm H
Custom requests welcome