Dietrich Varez Catholic Art Block Prints
Saint Damien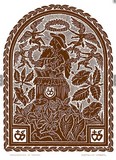 Father Damien has been described as a "martyr of charity". He was the tenth person in what is now the United States to be recognized as a saint by the Catholic Church. To this day Father Damien is the patron saint of the Diocese of Honolulu and of Hawaii.
Father Dutton
Blessed Saint Damien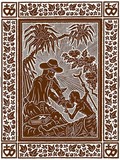 Saint Marianne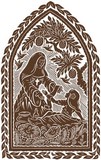 Known also for her charitable works, in 1883 she relocated with six other Sisters to Hawaiʻi to care for persons suffering Hansen's Disease on the island of Molokaʻi and aid in developing the medical infrastructure in Hawaiʻi.

Like the Art?
These are just the religious prints that Dietrich Varez, one of the most know artists in Hawaii, has created to celebrate Father Damien and SIster Marianne. When the original prints where done, both where not Saints yet Dietrich Varez is very fond of St. Damien, as in his words "he was a good guy!"
Today the Saint Damien and St. Marianne Prints are found on the walls of catholics' homes, offices, and church facilities throughout Hawaii.
Dietrich's Prints have been accepted as an official representation of Father Damien and Saint Marianne and he is delighted and honored by it.
Varez' Catholic muse was the late Honolulu-based teacher and writer Sacred Hearts Sister Mary Dolorine Pires who, he said, inspired much of his religious artwork

Many of the catholic gift shops in Hawaii also sell his prints, including the Cathedral Basilic Gift Shop in Honolulu.
Dietrich Varez has also created over 250 other wonderful prints depicting a variety of characters and stories based on Hawaii

If you like this artwork and jewelry, please take a look at DietrichVarezJewelry.com for our non-religious designs.

Mahalo for visiting our website!