News - Hawaii Catholic Herald 091918
Big Isle artist who made block prints of St. Damien and St. Marianne dies

09/19/2018 by Hawaii Catholic Herald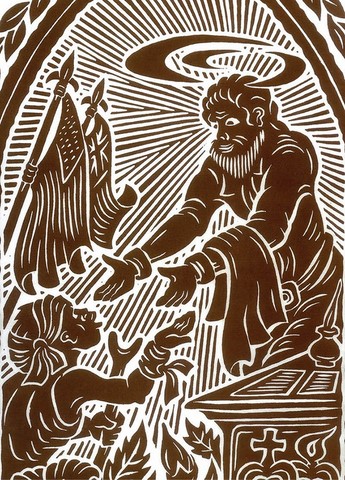 By Patrick Downes
Hawaii Catholic Herald

Big Island artist Dietrich Varez, whose block print images of Molokai's St. Damien de Veuster and St. Marianne Cope were incorporated into popular aloha wear, died Aug. 14, at the Yukio Okutsu State Veterans Home on Hawaii Island. He was 79.

Though not a Catholic, Varez considered Hawaii's two Catholic saints as worthy subjects of his artistic output, which was inspired by Hawaii's culture, myths, legends and historic subjects.

"I am a Lutheran," he said in a 2006 Hawaii Catholic Herald interview, "but I see them very much a part of what Hawaii was and still is. These are very important people."

Varez's first Damien shirt was created for the Reyn Spooner company in 2004 to commemorate Damien's beatification.

The shirt displays Damien in religious cassock and a brimmed cleric's hat, serving people with Hansen's disease in Kalaupapa, Molokai, as a carpenter, as a nurse bandaging a resident's foot, as a taro farmer, and serving fish.

"I do feel that this is an unusual shirt," Varez said at the time. "Not too many times do people tackle religious subjects in shirts. I think this is kind of a first in that way and I am proud to be doing that."

He went on to create at least two more saint-inspired fabric designs for Reyn Spooner shirts and dresses, one which featured both St. Damien and St. Marianne.

While his work was used prolifically on aloha shirts, the artist's primary medium was mono-color linoleum block prints. St. Damien and St. Marianne were frequent subjects. In 2013, he also did a print of Brother Joseph Dutton, the lay brother who assisted St. Damien in Kalaupapa.

He filled his artwork with many symbols and metaphoric elements, such as the double-heart logo for the Congregation of the Sacred Hearts of Jesus and Mary.

Varez' Catholic muse was the late Honolulu-based teacher and writer Sacred Hearts Sister Mary Dolorine Pires who, he said, inspired much of his religious artwork.

In a handwritten letter to Bishop Larry Silva in 2013 that accompanied a new print of Joseph Dutton, he said that Sister Mary Dolorine had told him that Brother Dutton might be considered for sainthood.

"So, I decided to make this print in hopes that it will happen," he wrote. "I could not resist hinting at sainthood by putting the halo above him," he said.